Ocean Voyage: Praia - Fort de France Cruise
on Le Ponant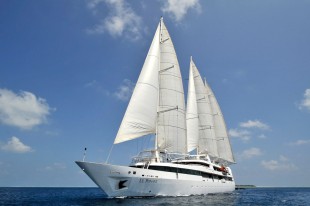 Praia (Cape Verde) - Fort de France (Martinique)
8 Days / 7 Nights
Between two seas or between two continents, la Compagnie du Ponant's ships invite you on board for their Sea Voyages several times a year.
Sea lovers, dreamers, keen observers of the endless horizon are invited to these non-stop trips, which allow you to enjoy the convenience of ships and share the lives of crews.

Over the following days, you can relax on the
...

Awaken Your Sense of Wonder – with PONANT Cultural Cruises & Expeditions
The world's only French-flagged cruise line and top cruise line worldwide in polar expeditions, PONANT Cultural Cruises & Expeditions currently has five distinctive and intimate vessels, embodying the essence of a private luxury yacht: the three-masted LE PONANT, an elegant sailing yacht accommodating 64 guests and four identically designed 'sister ships' with no more than 264-guests LE BORÉAL, L
...